On the occasion of its 2022 investor day (webcast here), the Beauty Health Company (NASDAQ: SKIN), a provider of skin treatment solutions, presented a new medium-term financial plan until 2025 which was reviewed favorably even against the optimistic Pre-event on street perspectives. Still, there were signs of caution in the numbers as management opted for a fairly wide range to account for potential headwinds ahead. Since the mid-term guide also does not factor in the benefits of potential increases in M&A or product launches (e.g. the Glow 'n Go home launch), there is ample room for the line upside down. The current valuation multiple may seem high at first glance, but the potential for double-digit revenue and earnings growth, supported by significant addressable market opportunities and operating leverage advantages, should see SKIN grow in its valuation.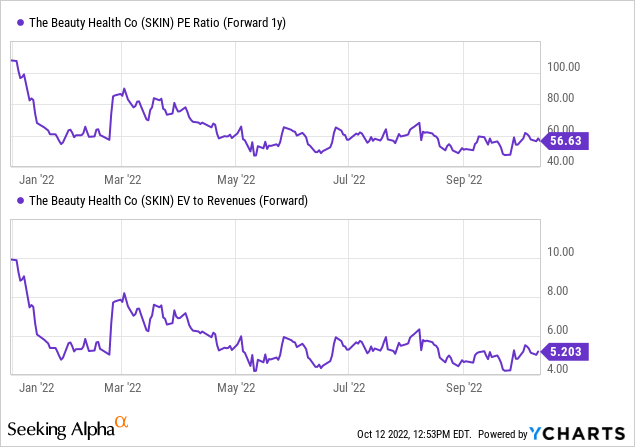 Medium-term P&L expectations reinforce underlying growth potential
Over the next three years, SKIN has guided revenue doubling to $600-700 million (20-27% CAGR), supported by an addressable market opportunity of over $250 billion in the domain. skin and hair. Geographically, Europe, the Middle East, Africa (EMEA) and Asia-Pacific are the main growth regions compared to the United States – compared to the low % of penetration of teenagers in the Americas, the company has a much lower double-digit presence in EMEA and ~1% in Asia. As these targets are also on an organic basis, mergers and acquisitions or new product launches present no potential upside in the numbers, leaving plenty of upside opportunities here.

The revenue growth target supports an equally strong Adjusted EBITDA guidance through 2025. With the expansion of margins charged at entry, SKIN is expected to achieve margins of 18-20% by 2023 (well above today's
International expansion as a key growth engine
The growth plan for the next three years is based on the planned expansion of the international business segment, which is expected to contribute more than 50% of total revenues by 2025. After allocating investment dollars to build a sales infrastructure and new international HydraFacial Experience Centers, as well as an international launch of Syndeo in 2023, SKIN is well positioned to further accelerate its expansion in EMEA and Asia-Pacific.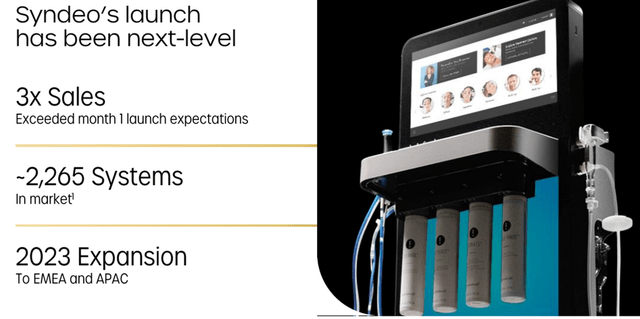 Partnerships will also be a key lever in its planned expansion – the company recently expanded its partnership with Sephora, with plans to launch in Singapore (a twelve-door opportunity) in the coming month. If successful, SKIN will launch across Asia-Pacific in September 2023, presenting a >200 doors opportunity. In the medium to long term, Sephora alone offers an opportunity of ~2.7,000 stores worldwide (note that SKIN is currently in nearly every North American store), while opportunities to also leverage its Lower cost "Perk" treatment has an added benefit.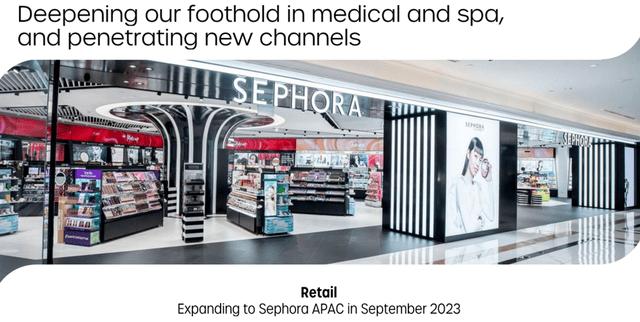 Additionally, the recently announced partnership with Organicell will enable the company to generate a new revenue stream through its anti-aging/anti-inflammatory booster. Given the short development timeframe (approximately six months) and the potential to expand its processing areas, the successful execution of this "build and expand" strategy should result in significant customer expansion and increase in customer spending over time.
Additional benefits of mergers and acquisitions
SKIN also remains disciplined on the M&A front, with its criteria ranging from financial growth to strategic considerations such as differentiated products/services with high customer satisfaction (measured by Net Promoter Score). This is largely consistent with past management views, but in light of webcast comments delaying an acquisition timeline ("opportunistic rather than temporal philosophy"), I suspect that any M&A catalyst will take time to materialize. That said, SKIN has a healthy cash balance to deploy, and given the current assumption of no M&A in the mid-term forecast, any acquisition through 2025 would be an additional upside against targets. financial. Despite the capacity of the company's balance sheet, small tech add-ons are likely to be the main focus at this point, especially with the company looking to improve upon the core Hydrafacial platform.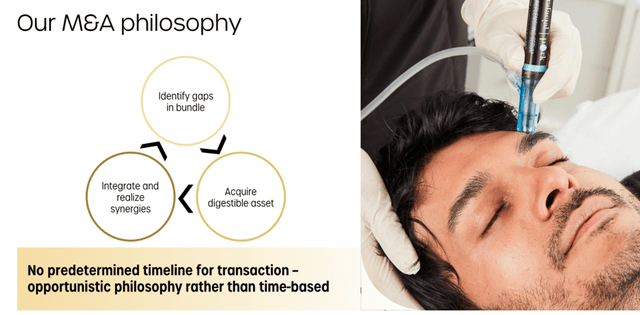 A compelling mid- to long-term growth story
As investors increasingly focus on the earnings potential of growth companies, SKIN's new medium-term plan to triple adjusted EBITDA by 2025 (implying 25-30% margins) will be well received by investors. Execution so far has been strong, with key partnerships established with companies like Sephora and Organicell, while the transition to localized manufacturing in Asia-Pacific is already well underway. Assuming management continues on this path, net sales CAGR of 20-27% and EBITDA margin expansion of 10-15% should be within reach over the next few years. Net, SKIN appears well positioned given its differentiated product offering, addressable market opportunities and operating leverage potential, justifying the current valuation.