While recent times have seen a major shift towards people incorporating a consistent skincare routine into their daily lives, an equally momentous shift has also been hailed to harness the power of natural ingredients more than ever in our skincare products. skin care. Since turning to their kitchen to DIY their skincare isn't a walk in the park for everyone, a lot of people tend to indulge themselves with products that are packed with the benefits of these natural ingredients. One of those components that, as the title suggests, works like a miracle for our skin is papaya.
Papaya is a nutrient powerhouse that has many benefits for our skin, hair, and body in general. It is already becoming an essential ingredient in a range of skincare products infused with the concoction of fruit extracts and primarily its enzyme, papain.
What are the benefits of using papaya enzyme on the skin?
Papaya is a superfood rich in magnesium, potassium, minerals and vitamins like A, B and C which together contribute to its great effectiveness and benefits. Additionally, the papaya enzyme, papain, is a proteolytic enzyme that aids in the breakdown of skin proteins to help rid our skin of dead and damaged skin cells. It is extracted from papaya leaf, bark and fruit and is a major component of skin products for all the benefits it encompasses.
Papain has anti-inflammatory and antibacterial properties that help treat acne and prevent breakouts. This is one of the reasons it's in many exfoliators and cleansers because they reduce acne by removing dead skin cells that clog pores. Because it also includes AHAs, it also helps reduce blemishes and pigmentation that occur after breakouts.
The papaya enzyme also reduces the signs of aging by acting as an excellent anti-wrinkle treatment boosted by the presence of antioxidants like lycopene and vitamin C. Because it acts as an exfoliator, it removes dead skin and the scaly patches of your skin leaving it glowing, luminous and healthy looking.
Since papaya helps reduce pigmentation and dark spots, it also helps in the treatment of melasma, a skin condition that causes dark spots on the skin. According to a study, papain also plays an effective role in healing skin wounds.
And now that you are aware of the impact of papaya enzyme in skincare, let's review our list of amazing papaya-enriched products.
Here are some products with the benefits of papaya enzyme
(Courtesy of hero and featured image: Alleksana/Pexels)
A gentle, non-abrasive exfoliator, Elemis Papaya Enzyme Scrub helps remove dead skin cells without the need for harsh physical exfoliation. It's a creamy rinse-off formula infused with natural papaya and pineapple enzymes that purifies your skin and leaves it feeling revitalized and radiant.
Simply apply it on a clean face and leave it on for 10-15 minutes. Then rinse with lukewarm water.
Image: Courtesy of Elemis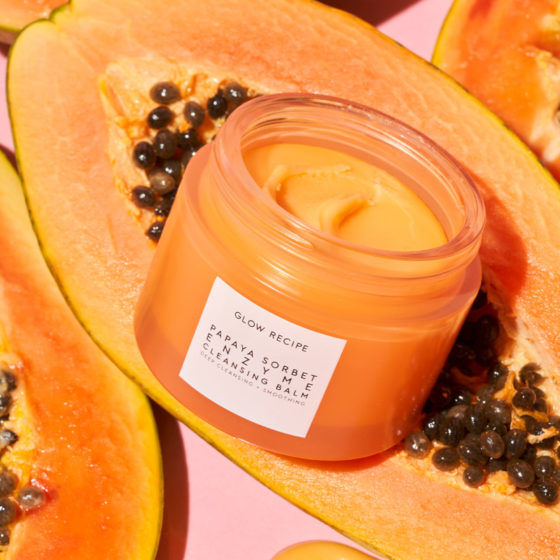 Packed with the properties of papaya in all its forms, this cleansing balm from Glow Recipe effortlessly removes all makeup, dirt, oil and impurities. Its formula is a blend of papaya extract, its enzyme and even papaya seed oil along with blueberries to give you healthy skin. The balm gently exfoliates your skin leaving it clean, glowing, calm and plump.
This refreshing cleanser is suitable for all skin types, including sensitive skin, and can be used as a make-up remover. Begin by gently massaging onto dry skin in circular motions for up to 30 seconds. Add a little water and massage for another 30 seconds for effective make-up removal.
Image: Courtesy Glow Recipe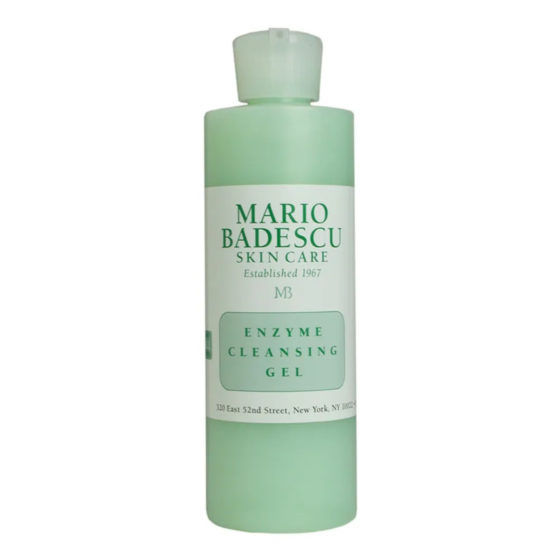 A deep and refreshing facial cleanser infused with papaya and grapefruit, this enzyme cleansing gel is for oily and combination skin. It helps rid your skin of dullness, impurities and excess oil to leave it looking bright and fresh.
Use like your normal facial cleanser by gently massaging onto damp skin in circular motions, then rinsing.
Image: Courtesy of Sephora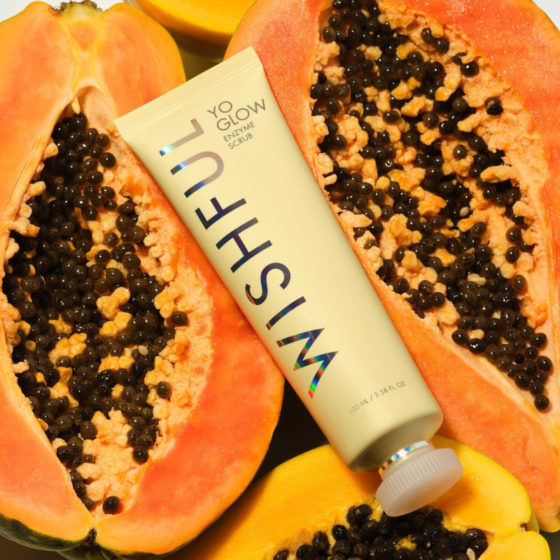 A gentle yet powerful exfoliator that combines the power of AHAs, BHAs and enzymes from pineapple and papaya, the Yo Glow Scrub will leave your skin with a super healthy glow. It has a milky and light texture that gently removes impurities and dead cells from your skin.
The scrub is suitable for all skin types and is sulfate, paraben and cruelty free.
Image: Courtesy of Wishful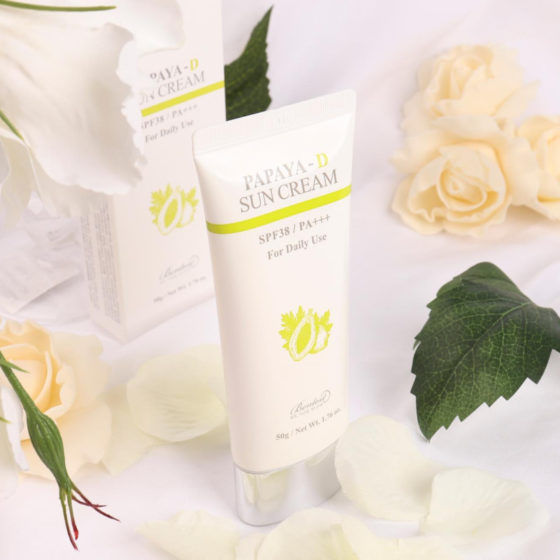 Shield your skin from harmful UVA and UVB rays with Benton Papaya-D sunscreen rich in minerals, papaya nutrition and AQUAXYL. While the cream will protect your skin without leaving white marks, it will also leave it hydrated and revitalised.
The cream is enriched with SPF 38 PA+++, dermatologically tested and cruelty-free.
Image: Courtesy of Benton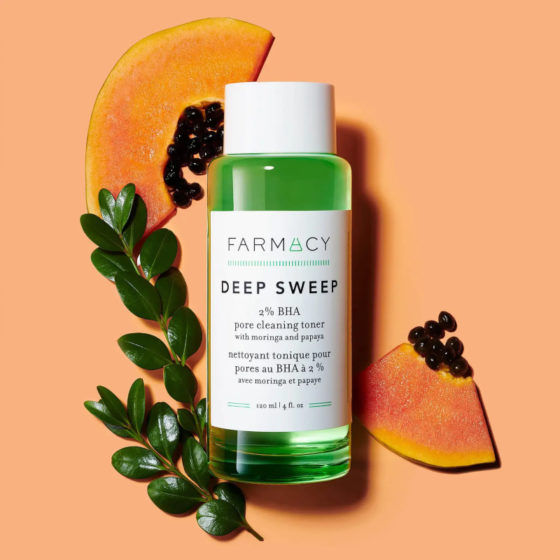 Formulated with 2% BHA (salicylic acid), moringa and papaya enzyme, this pore cleansing toner gently exfoliates and deeply cleanses your face. It's a lightweight, water-based formula that minimizes the appearance of pores, gives you a healthy-looking complexion, and reduces excess oil without stripping the skin too much.
This toner is free from paraben, formaldehyde donor, mineral oil, phthalate and is created without any cruelty.
Image: Fantastic courtesy look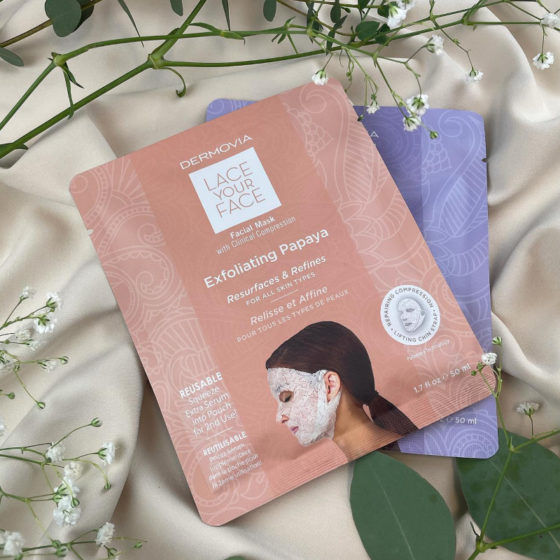 Literally loaded with all things nourishing, this pore-refining mask includes ingredients that would do wonders for your skin. While papaya enzyme gently exfoliates and polishes your skin to unclog pores and remove dead skin cells, marine collagen helps renew skin. The presence of seawater extract helps diminish the appearance of blemishes while cucumber extract hydrates and energizes your skin with soothing chamomile.
The formula of this mask is water-based, which makes the absorption of the active ingredients faster and deeper in all layers of the skin. The mask is made of biodegradable stretch cotton fabric and can be used twice.
Image: Courtesy of Dermovia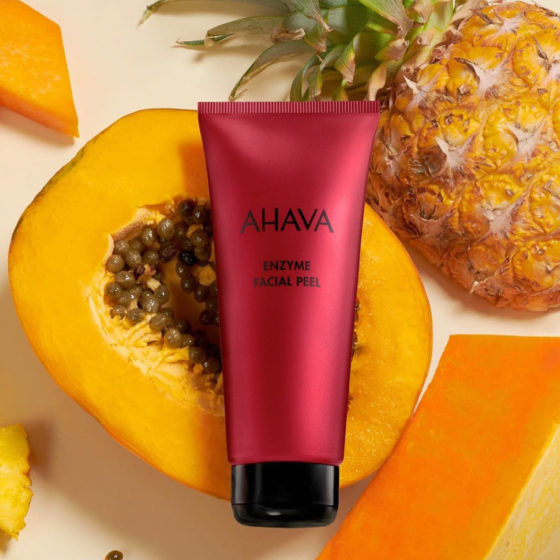 The Ahava Enzyme Facial Peel is a rinse-off peel developed with a blend of powerful minerals from the Dead Sea, papaya enzymes and apple of Sodom extracts. From polishing your skin, hydrating and revitalizing it, to unclogging pores and minimizing fine lines and wrinkles, this peel does it all. It offers an illuminated complexion from within and an even, plumped skin.
Image: Courtesy of Ahava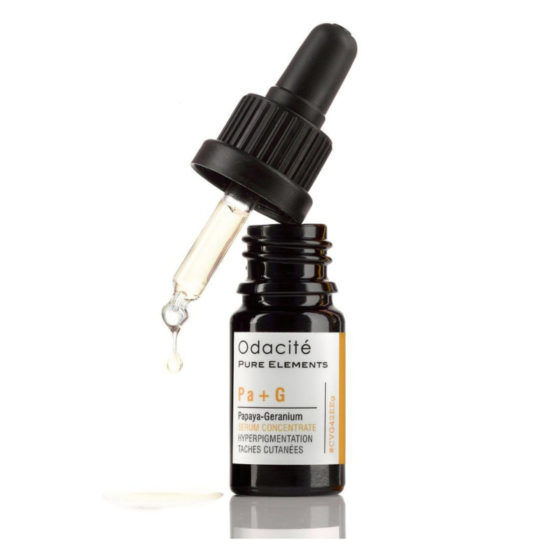 This multi-active serum manages skin concerns such as dark spots, pigmentation and other signs of aging. It's a lightweight face oil that delivers a concentrated, high-strength dose of targeted actives to give you more even-toned skin.
The serum is made with cold pressed and extracted virgin papaya oil produced from papain to help slough away dead skin and reveal smoother looking skin.
Image: Courtesy of Odacité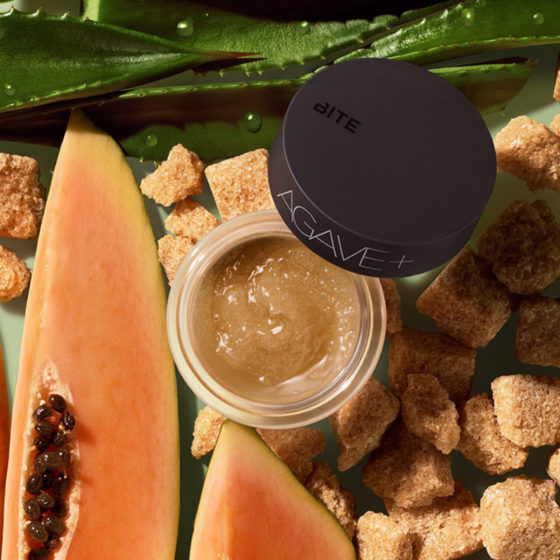 A three-in-one lip scrub that cleanses, exfoliates and conditions lips, Agave+ Lip Scrub gives you softer, smoother lips. While it contains papaya enzymes and fair trade organic golden sugar to exfoliate your lips, agave nectar and squalane from sugar cane nourish and soothe them.
Image: Courtesy Bite Beauty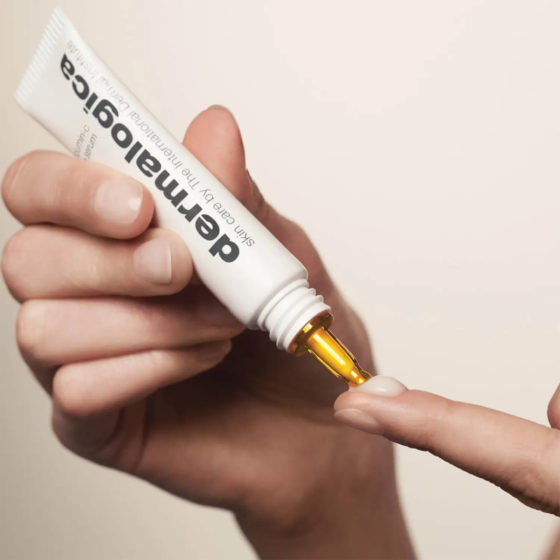 A supercharged eye serum formulated with vitamin C, papain and other essential ingredients, Dermalogica Biolumin-C Serum reduces the visible signs of aging. It is a lightweight serum that dramatically brightens and firms the eye area. It further diminishes the appearance of fine lines and wrinkles while chemically exfoliating and hydrating the skin for a smooth, healthy-looking appearance.
Image: Fantastic courtesy look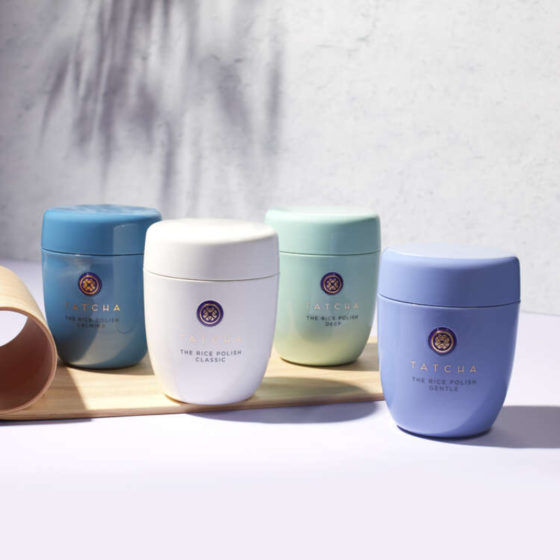 Tatcha's Rice Polish is a water-activated exfoliator made with Japanese rice bran, papaya enzymes and an amino acid-based formula. It delivers non-abrasive exfoliation with a cloud-like lather to reveal smoother, softer skin. Hadasei-3 – a fermented Japanese superfood trio of green tea, rice and seaweed – helps restore a healthy glow.
It comes in three variations for different skin types: classic for combination to dry skin, deep for combination to oily skin, and gentle for dry to mature skin.
Image: Courtesy of Tatcha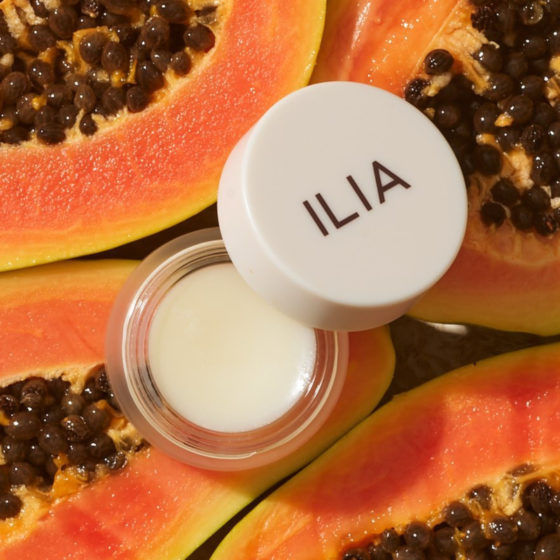 Ilia Lip Wrap Overnight Treatment is a mask that gives you smooth and supple lips while you sleep through the night. Its powerful dual-action formula gently exfoliates and moisturizes your skin simultaneously (without any manual exfoliation).
Once applied, while papaya enzymes gently remove dead skin, the properties of hyaluronic acid and glasswort penetrate your skin to hydrate lips from within.
Image: Courtesy of Ilia
FAQs
Is papaya enzyme a good exfoliating agent?
Yes, papain works great as an exfoliating agent, which is why it's an essential ingredient in many exfoliators, cleansers, peels, and scrubs.
Is papaya good for acne?
Yes, papaya helps prevent acne since the papain enzyme has anti-inflammatory and antibacterial properties that help reduce inflammation.
Is papaya enzyme good for oily skin?
Yes, it is safe and suitable for all skin types. In fact, the exfoliating and cleansing properties of papaya enzymes help remove oil and impurities from the skin and even control excess oil.
Are there any side effects of papaya enzyme on the skin?
Although using products formulated with papain is safe, topical application of raw papain can be harmful and cause blistering and irritation.